It's December now, and the semester is coming to a close. Perhaps you think you've hit all the major tourist spots already. And now I'm sure you've been to the Hongdae and Gangnam to try out the pubs, clubs, and street food. But I think some exchange students overlook the more chill and cute activities Seoul has to offer! If you're an animal lover, you have to check out these unique cafe's.
Note: Be sure to take off your shoes when you enter any of the animal cafe's (except the dog one). Slippers are provided!
Dog Cafe: Bau House 
Address: 64 Yanghwa-ro, Seogyo-dong, Mapo-gu, Seoul
Exit out of Hapjeong station Exit 3
We're going to start with this dog/puppy cafe, because it was my ultimate favorite. The doggies were so happy to play and cuddle, and were separated into two areas by size. Bigger pups in the back of the cafe and smaller ones near the front! I estimate around 20 dogs of various size in total.


Pictured above is my friend Angie and I rejoicing over the fact that this puppy graced us with his presence and lied upon our table. The glory was short lived however, as he betrayed us and later sat at another table.


Same puppy as the first pictured above. Adorable and fluffy, yet deceitful. You can see him eyeing other patrons for the attention.


Two pups hiding from the bigger dogs excitement in a pumpkin.


Pictured above is little puppy I affectionately named "potato", he decided to sit on my lap.
The drinks were simple bottled drinks. Sodas, Juices, and MoGu (juice with coconut jellies inside). Drinks do not cost extra, and are included in the 8,000KRW entrance fee.
Cat Cafe! Yeonnamdong Cat Cafe연남동 고양이 카페
Address: Seoul, Mapo-gu, Yanghwa-ro 21-gil, 15 KR
Cats are pretty notorious for their non cuddly approach. Though most of these cats do love to play, and enjoy the occasional petting, they are not nearly as cuddly as their puppy counterparts. That being said, these are some of the most happy cats I've ever seen at a cat cafe, and that has to do with the passionate owners! The owners are especially kind to these kitties, feeding the younger kitties by bottle and assuring the customers didn't make too much noise and startle sleeping cats. The employees were also sure to remind the customers not to stress the cats out by trying to touch them too much. Therefore all the cats were very calm and seemed very comfortable to sleep around so many people and luckily a lot of the cats were very playful.

Pictured above is Charles. The cat king of Yeonnamdong. There are little knitted hats you can put on the more apathetic kitties.


My boyfriend Thomas petting the aforementioned kitty king. In hindsight, there were probably about an estimated dozen kitties there in total.
Much like the dog cafe, the drinks were of bottled variety, and included coffee tea and soda. 1 drink is included in the 8,000KRW entrance price.
Sheep Cafe! Thanks Nature Cafe 땡스-네이쳐-카페
Address: 10 Hongik-ro, Seogyo-dong, Mapo-gu, Seoul
This is the picture of the outside of the cafe. Truly gorgeous exterior, and there is no entrance fee but instead you just pay for the drinks/deserts that you choose to buy!

Prices range from ~6,000KRW+ for drinks to around ~14,000KRW for the shareable bingsu (ice cream) deserts. Pricey yes, but worth it? Absolutely. Just look at these adorable deserts.

Pictured above is an unedited photo I took of the sheep pen. Of course, it is a bit lackluster, however the word "sheep pen" doesn't illicit feelings of luxury in itself. The extraordinarily cute deserts and cafe atmosphere make up for what the sheep pen lacks. Plus the sheep look happy, full and content. In theory, you could just walk in take a look at the sheep and leave without buying anything since there is no entrance fee. However, I well and truly do not recommend that. After all, most of the memorable experience stems from the adorable sheep themed deserts and drinks.
Overall, I'm very impressed since it is the only cafe listed here that has cafe grade drinks and deserts. The other venues have only bottled drinks and no snacks.
Raccoon Cafe Maengkun
Address: 서울시 마포구 연남동 255-25 1층


At this location there is a bit of variety with the animals. There are meerkats (in a box outside), one dog, and of course raccoons. You can choose to simply enjoy the animals for 11,000KRW or add a drink for an additional 2,000KRW. Drinks were served in little white dixie cups from GS25 (Korean convenience store chain). So, as far as value to drink price this venue is a bit lacking. You must choose weather you would like to drink before or after the animal experience unlike the cat and dog cafe's where you can drink while you pet the animals. After payment, you then get a stamp on your hand to identify that you paid and you can freely walk around and gaze at the animals.
Upon entering the cafe, unfortunately there was one worker who was yelling very loud complaints in Korean about being annoyed that all of the customers were foreigners.
Due to the workers anger, no directions were spoken directly, however if you can read Korean directions are clearly marked on signs around the cafe.
The swing door lets customers go in and out, and the dog and raccoons would often escape outside causing chaos between the one worker who would curse loudly and scream at the other employees when the animals ran out.  But on a positive note: as far as our group observed, besides the one employee, the other staff and customers included were very kind to the animals.
Though my friends stayed 1.5 hours, I do not believe the cafe was worth it due to the uncomfortable atmosphere. I contemplated skipping this cafe's reviews entirely as I thought that I may have just stumbled upon the cafe on a bad day and I didn't want to speak ill of a business. However, after searching online many other patrons had similar negative experiences, so there seems to be habitual mal-treatment of foreign customers.
Some customer reviews noted that the animals did in fact seem sad. Although when I visited the animals were not directly mistreated, some of the animals did seem stressed. There was one raccoon who seemed to be pacing the floor back and forth. Some raccoons seemed overweight. Both pacing, and over eating are signs of stress in animals. In the end it is your own choice if you would like to support this business or not. But just know, most people myself included did not have a great time here.
Meerkat Cafe! Meerkat Friends 미어캣프랜즈
Address:마포구 와우산로21길 19-12,3층  Seoul, Korea
Price 15,000KRW (includes 1 drink per person)
Last but definitely not least: the recently viral Meerkat Friends Cafe! Two Kpop stars Jennie and Rose from Blackpink visited this cafe and since then I've been seeing a lot social media buzz around this cafe on Instagram.  Due to a friends recent recommendation, along with the viral buzz; this cafe definitely lands on my to-do list . All of the following pictures are from the Meerkat Friends Facebook page. All of the reviews on both Facebook and Google Reviews are overwhelmingly positive.
Cats, meerkats,  and arctic foxes grace this establishment.


Sleepy after a long day at work.

Arctic Fox scoping out the crowd.

Kitty cat stretching.
Pictured below is Blackpink's Jennie visiting this very Meerkat cafe!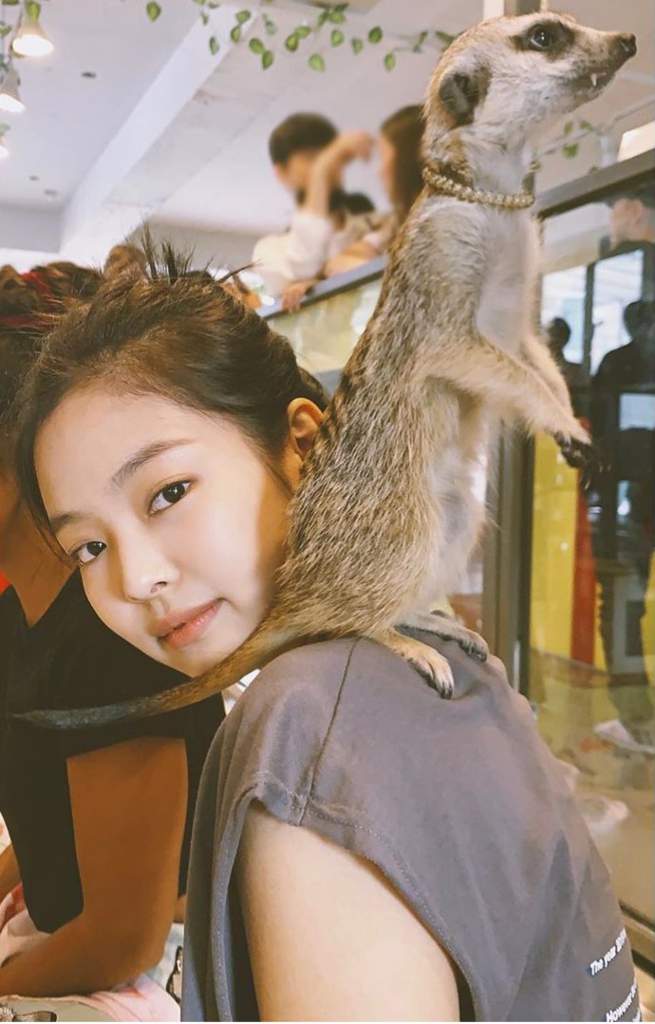 Personally, nothing beats the classic cat and dog cafe's for the actual animal experience. However the sheep cafe was my personal favorite for best food and drink experience. So why not take the opportunity to see some more unique animals during your stay in Seoul if you have the chance!