Street food is a cheap and quick way to sample some sweet and savory Korean treats. Though the more unique snacks are definitely more expensive, they're definitely worth it, and fun to try! 
DIRECTIONS:
Myeongdong 명동역: From the subway, go to Myeongdong (Line 4) station Exit 3, cross the street to your right, opposite of the flair bar and the pororo park area. Also accessible from Exits 5/6/7/8. Address: 서울특별시 중구 명동길 (명동1가) | Myeongdong-gil, Jung-gu, Seoul Or Euljro (Line 2) Exits 5 & 6 

Avenue of Youth 종각역: From the Subway Jonggak Station Exit 4. 5 Minute walk Address: 서울 종로구 종로 2가 84-15 84-15 |Jongno 2-ga, Jongno-gu, Seoul, South Korea
Hongdae 홍대역 : From the Subway, Exit 9 you will see street food carts immediately to your left~ continue down the road for more options. Address: 서울시 마포구 서교동 365-8 |365-8 Seogyo-dong, Mapo-gu, Seoul
MYEONGDONG 명동!
Myeongdong is not only a popular clothes and accessories shopping spot, they're also famous for their street food. Myeongdong is a great place to not only try popular Korean chain restaurants, but sample some of the more unique street foods such as cheesy lobster tail, and samgyeopsal yakisoba that is not available in other street-food areas. Below are some streets foods that are exclusively available in Myeongdong.
1.) Samgyeopsal Yakisoba 삼겹살 야키소바
A savory noodle treat with chewy noodles and crunchy veggies. Similar to the Chinese-American style dish chow mien.

2.) Pomegranate Juice 석류 주스
Fruit in general in Korea isn't rare per say, but it is quite expensive and getting a fruit fix is more difficult than it would be in America. These pomegranate bag drinks come hot or cold!

3.) Fruit Cups 과일 컵
More fruits!~ These come in prepared cubed and washed cups or you can get the fruits blended into a smoothie!

4.) Cotton Candy 솜사탕
Though you may be able to find cotton candies in other parts of Korea such as Hongdae, I've only personally seen these fun shapes in Myeongdong!

5.) Grilled Lobster 랍스터 구이
You can get these lobster tails with cheese melted on top or classic melted butter.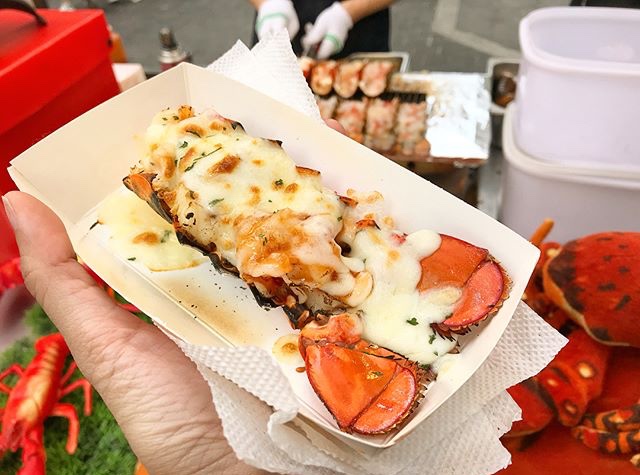 *BONUS: Another tasty option is an affordable Michelin Star restaurant in Myeongdong called Myeongdong Kyoja 명동교자. The restaurant is known for their dumplings 만두 and Kalguksu 칼국수 ~
Address: 서울특별시 중구 명동10길 29 | 29 Myeongdong 10-gil, Myeongdong 2(i)-ga, Jung-gu, Seoul

HONGDAE & AVENUE OF YOUTH 홍대역 & 종각역
Myeongdong will also host these tasty street foods below, These are common among any street food area, and total must-haves during your stay!
Teokbokki 떡볶이: Korean Spicy Rice Cake


This treat is a warm chewy rice cake covered in a red sweet and spicy sauce. It can come either by itself in a bowl with cut up pieces of omuk 어묵 or fishcake, or on a skewer with sausages called soddeok 소떡. Since Myeongdong is a city known for foreigners, the Teokbokki here is noticeably sweeter and less spicy. So, if you fear spicy foods Myeongdong is a great place to try it!



Odeng오뎅/Omuk어묵: Korean Fish Cake 


Fish Cake is exclusively sold warm as streetfood, and is a great way to stay warm during winter evenings. The soup is told to be a great hangover cure! Soft and spongy, fish cake has a very mild subtle fish flavor with a hint of salt. Simple, and one of my personal favorites.



Chicken Cups 치킨 컵 : Korean Fried Chicken


Fried Chicken without waiting in line at a restaurant? Yes. Famous among the college kids is a bowl of your choice of sweet, spicy, or plain chicken to be enjoyed with your friends with tiny toothpicks.



Dakkochi 닭 꼬치: Grilled Chicken Skewers


If you're not a fan of breaded fried chicken, these grilled chickens may satisfy your protein cravings. A fresher and lighter snack than their fried chicken counter parts, these chickens come skewered with veggies! You can choose non spicy salted chicken, medium heat, or spicy.



Tokkebi Hot Dog 핫도그


These famous hot dogs are  all over Instagram in Korea. These hot dogs come battered in french fries. Wild.  You can also get them classic corn-dog style, and some street food stands have giant mozzarella sticks. Usually on the blander side, you can spice it up with an array of sauces including; mustard, ketchup, cheese, and sriracha.



Hotteok 호떡: Stuffed Pancake


Hotteok is grilled fresh right in front of you, and come in sweet and savory varieties. The sweet ones come in honey or brown sugar, some street food stands add walnuts inside their sweet cakes. The savory ones come with japchae 잡채, a Korean glass noodle with veggies and meats.



Tornado Potato 회오리 감자


Exactly how it sounds. One whole potato skewered, fried, and salted.



Soondae 순대: Korean Sausage


Popular to eat dipped in the Teokbokki Sauce. Blood sausages are another chewy, salty and warm snack to try.



Korean Ice cream 아이스크림


Korean Ice cream comes in a wide variety of not only flavors but also textures. There are 3 main varieties of ice cream. One is known for being either super light and fluffy lighter than whipped cream 생크림. Another comes in "cheese 치즈" varieties. Another is icy milk 우유 ice cream. This ice cream has a much denser and rich milky flavor. The texture is a bit icy on the tongue, and much more filling and noticeably colder and melts much faster than the other two options.Just as important as the ice cream, is the cone. Cones come in a variety of shapes including: u-shape, fish shape, literal waffle cones, and of course the classic cake and sugar cones.




Takoyaki 타코야키


Originally from Japan, these are tiny balls of squid flavored fish cake. If you're more of a fan of stronger fish flavors this may be a better choice for you than eomuk/odeng.



Bunngeoppang붕어빵 /Innoppang 이노빵: Fish Shaped Waffles!


Do not be fooled, they are not fish flavored. These tiny little fish shaped waffles come filled with either a red bean paste 팥 or Chou cream-like custard 커스터드 filling.  The shape corresponds with the size of the snack! Benngeo

붕어

is Korean for carp and thus larger, and Inno

이노

Korean for a smaller fish so it's tinier (and cuter). Ppang 빵 means bread! In this case, the texture is closer to a crunchy thin waffle.


*BONUS: Bingsu 빙수: Fluffy Shaved Ice-milk topped with ice cream and condensed milk
Not exactly a street food, but delicious nonetheless. You can usually find a Sulbing 설빙Korean Desert Chain (the most popular of the bingsu chains) next to where the street foods are!